Electricity
Oswego County, powerhouse of the northeast, generates nearly 5,500 megawatts of electricity with extremely high reliability.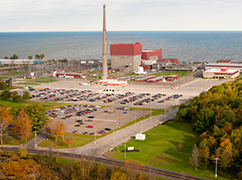 Natural Gas
National Grid is the major provider of natural gas throughout Oswego County.
Water
With Great Lake Ontario at our shores, Oswego County boasts one of the most abundant and highest-quality water supplies in the country.
Sewer
Public sewer systems are available in the City of Oswego and the City of Fulton.
Telecommunications
A full range of local, long distance and data telephone services, plus wireless, fiber optic and cable services connect Oswego County homes and businesses to the world. Major providers include: