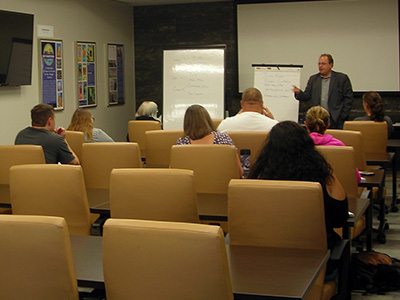 The Micro-Enterprise Program is coordinated by the SUNY Oswego Business Resource Center (BRC) and supported by the City of Fulton Community Development Agency, the City of Oswego Community Development Office, and Operation Oswego County to provide guidance and support to people interested in starting or expanding a small business.
The program provides a 14-hour small-business training program that covers such topics as how to write a business plan, how to obtain financing, accounting and tax issues, business insurance, legalities, marketing, and other basic business start-up issues.
Graduates of the program are eligible to apply for up to $25,000 in low-interest financing to expand or start their business in Oswego County.
Tuition for the program is $50 and includes all materials. Due to COVID-19, all classes are currently being held online. Scholarships are available for households within low to moderate income guidelines as established by U.S. Department of Housing and Urban Development.
2022 Small Business Training Classes
Three classes will be held during the 2022 calendar year. The classes will be taught online, via GoToMeeting, from 5:30-7:30 p.m. Limited scholarships will be offered.
January 24-28, January 31 and February 1
June 6-10 and 13-14
September 12-16 and 19-20
Registration and payment for the class are online.
download the micro enterprise program brochure
Course Outline:
Introduction to Small Business Ownership
Meet the class participants and learn about one of the best ways to meet new customers
Meet and listen to current small business owners as they share their insights on owning and operating a small business
Learn the basic steps of small business start-up and the resources available
Business Planning and Financing
Introduction to the written business plan and how to start writing your own plan
Learn how to go about obtaining funds from a bank
Learn how to check your credit history and how to address any related credit problems
Risk Management
Learn about the use of business insurance as one aspect of risk management for your business
Financial Statements and Accounting
Learn how to do a cash flow statement for your business
Find out what taxes you will be required to pay and when and how to pay them
Learn how to keep track of simple financial records and how to keep books for your business, as well as how this relates to your important tax information
Marketing
Find out how to identify your market, how to advertise to that market, and how to retain customers
Business Legalities
Learn about sole proprietorships, corporations, limited liability corporations and partnerships
Learn how to avoid potential legal problems in your business
Loan Program
Learn about below-prime rate loans available to micro program graduates