Our experienced economic development professionals are here to help you with your relocation and site selection process from choosing a property to the ribbon cutting and everything in between.

Our services include:
Property selection and site tours;

Specialized research and technical assistance;

Planning and coordination; and
With an inventory of available buildings, consisting of industrial, office, warehouse, and retail spaces for purchase or lease, we are able to find homes for new businesses quickly.

Oswego County has Greenfield sites available that are ready to build on. Within the industrial parks, all sites have utilities and other infrastructure in place.

Comprehensive Site Profiles
Some sites within the parks have had comprehensive site profiles performed. These profiles expedite the selection process by eliminating much of the due diligence work for the potential purchaser.
Airport Industrial Park Comprehensive Site Profile
Columbia Mills Comprehensive Site Profile
Lake Ontario Industrial Park Comprehensive Site Profile
Oswego County Industrial Park Comprehensive Site Profile
We look forward to helping you find a home for your business in Oswego County!
Site Profile Images
Oswego County Airport Industrial Park, Volney, NY
Columbia Mills Site, Scenario B, Minetto, NY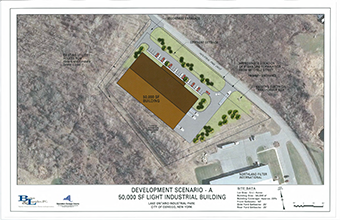 Lake Ontario Industrial Park, Scenario A, Oswego, NY
Lake Ontario Industrial Park, Scenario B, Oswego, NY