Oswego County Schools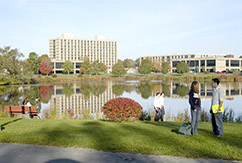 46 elementary and secondary schools within 9 school districts
More than 100 undergraduate and graduate degree programs to over 8,700 students per year at SUNY Oswego
More than 100 courses in business and liberal arts to 1100 students per year at Cayuga Community College's Fulton campus, plus a partnership with St. John Fisher College enabling CCC graduates the opportunity to continue their education and earn a Bachelor degree
Adult education, distance learning, industrial training and migrant education at the Center for Instruction, Technology & Innovation (CiTi) in Mexico, NY
The Oswego County P-TECH program offers students entering 9th grade a means of earning a high school diploma and an Associate Degree in either Mechanical Technology or Electrical Engineering Technology through a partnership between all 9 Oswego County school districts, the Center for Instruction, Technology and Innovation (CiTi), and Onondaga Community College (OCC), as well as industry partners.
Advanced Manufacturing Certificate Programs in Mechanical Technology and Plastics Manufacturing at the Center for Career and Community Education (CCCE), a partnership between the Center for Instruction, Technology & Innovation (CiTi) and Cayuga Community College (CCC) and
SUNY Oswego's Office of Business and Community Relations, conveniently located in downtown Oswego, administers workforce and small business development programs throughout Oswego County.
Oswego County also provides a wide array of opportunities for people looking for new skills, improvement of existing skills or simply personal enhancement through education.
Private Colleges and Universities in Central New York
Colgate University
Syracuse University
LeMoyne College
Wells College
Cornell University
Ithaca College
Rochester Institute of Technology
St. John Fisher University
St. Lawrence University
Clarkson University
Nazareth College
Utica University
Public Colleges and Universities in Central New York
State University of New York Health and Science Center in Syracuse
State University College of Environmental Science and Forestry in Syracuse
State University of New York at Cortland
State University of New York, Agricultural and Technical College at Morrisville
Vocation and Community-Based Institutions